When you wager with Betway using your mobile device's web browser, we are required to do a location check to ensure you're physically present in Virginia. To do this, we use a trusted and verified GeoComply application called TrueLocation.
Get TrueLocation for iOS (iPad) or for Android tablets from your app store and follow the prompts to install. Once that's done, you'll be ready for trouble-free wagering!
How Do I Use Geolocation?
You'll be able to browse our wide selection of markets and betting options without geolocating, but will be required to do so to place a bet.
Upon log-in, you'll receive this message to assist with your geolocation: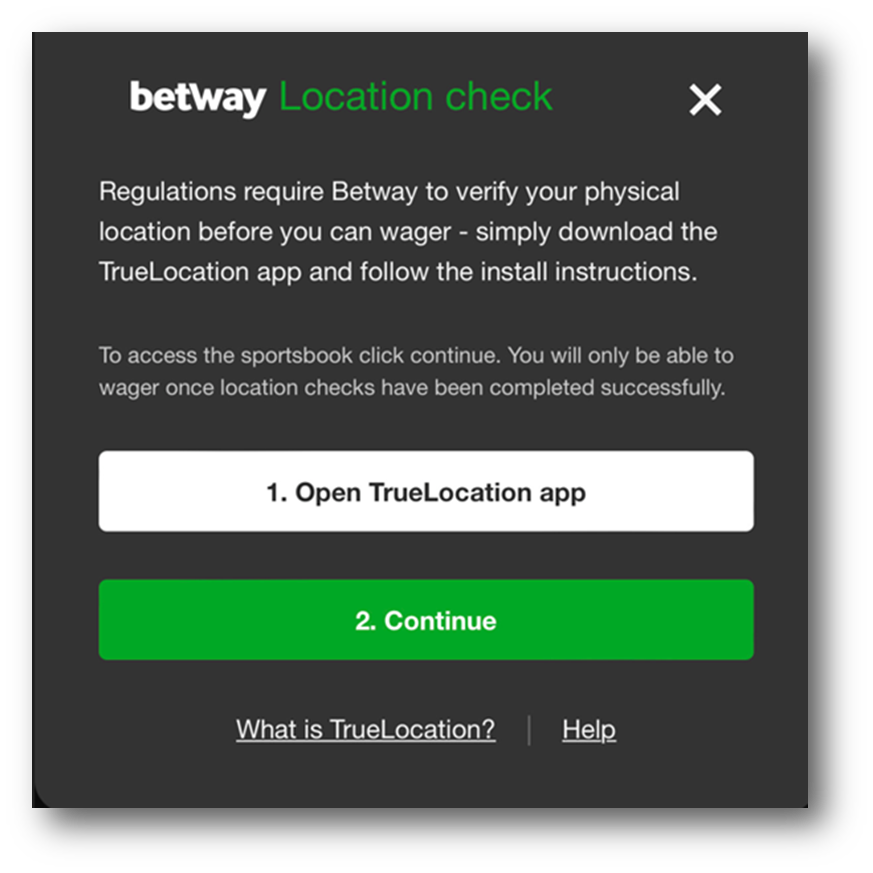 Step 1: Open the location services app
Use the "Open TrueLocation app" button to launch TrueLocation or to install it if you haven't downloaded it
If you already have TrueLocation open and running, simply click "Continue"
Step 2: Ensure that your app settings allow location services to run
On first installation of TrueLocation, you will be prompted to allow the app to use your location to do its checks – select "Allow" here
You are also able to enable location services in your device settings if you elected not to allow it when you first installed TrueLocation
Step 3: Geolocation Successful
Once you've followed the above steps to get TrueLocation running, you should experience problem-free and safe gaming.
If you forget to geolocate upon log-in, don't worry – we will ensure you're prompted again before you complete your bet.
Remember to make sure you allow location services on your device and turn off any VPN. If you experience any difficulty with the location checks, our friendly Customer Support Team are on stand-by to assist and troubleshoot.
How Do I Install Geolocation?
Click here for Google Play Store
Click here for App Store
Make sure location services are switched on for the app to work
Open va.betway.com, log in, and click "Geo-locate"
The location check will complete and you're all set!
I want a simple, secure, and seamless in-app geolocation experience instead
Download our native app and take us on the go!